Have you recently visited our grooming salon? On Thursday the 27th November 2012, Local business in Redbridge Borough, Pet Universe Cat and Dog Grooming Salon, was visited by 30 Japanese students, who are taking classes in pet grooming.
Pet Universe was contacted by Erika at "Miki Travel" querying the possibility to come and visit the salon, to provide the students the opportunity to learn new skills and see the differences between pet grooming in Japan and the UK.
Svetlana Broussova said that she was honoured to be chosen as the choice salon for the students.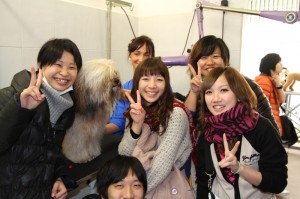 The morning was spent with the students rotating between the 3 designated dog grooming rooms. As always with students, they had many questions, but with only one translator, the groomers and students had to quickly adapt.
There was a lot of hand waving, facial expressions, and noises, and after a while the language barrier became non – existent, and many were found laughing at themselves.
On the same day the students visited the Kennel Club, the Blue Cross Animal Hospital, Battersea Dog and Cats Home and RSPCA Southbridge Animal Centre to observe a dog training session. Pet Universe received a thank you email from Erika, expressing her gratitude and how the students had enjoyed their visit, and that Pet Universe had created an everlasting happy memory for them. It was overall a wonderful experience for both parties involved.
Please, see more pictures on our Facebook page