About Pet Universe Cat & Dog Grooming Salon
It was founded by Svetlana Broussova, who was born in Russia where she qualified as a veterinary surgeon. She came to this country in 1999.
Pet Universe provides professional pet grooming services, delivered by a friendly, dedicated and experienced team. We welcome all cat and dog breeds, with any needs.
We can provide different types of grooming services from regular brushing out to working with badly matted coats; bathing with top quality shampoos such as J Paul Mitchell; hand blow drying with coat conditioners and styling to the breed standard or your requirements. Nail clipping, hair removal from ears and expressing anal glands are all part of our grooming session and free of charge.
Additional services available on request are: salt baths, hair dying (colour restoration), Pawdicures (doggy manicures with nail colour), teeth cleaning, aromatherapy massages and much more. Pet grooming is a passion for us and we promise to treat your pet with love and respect at all times.
Every member of Pet Universe is an animal lover. We genuinely love your pet as much as you do!
What you can expect from our business
All initial appointments begin with a free consultation to enable us to tailor a programme for your pet's individual needs and discuss any health or behaviour issues.
Our philosophy is that grooming should be a pleasurable experience;
We will never hurry a dog/cat especially if they are nervous or old with aches and pains;
We operate on an appointment only basis, so every dog/cat has the individual care and attention it deserves;
Our priority is your pet's welfare and happiness; we always allow time for your dog/cat to rest during grooming;
We aim to make the whole experience as stress free as possible for both your pet and you;
We only operate on a one to one basis; this means it is great for nervous pets that are not comfortable around others;
We have a warm and welcoming business where the dogs are able to relax and feel confident with their surroundings;
The experience that they encounter is an enjoyable one which makes for a great working practice. If your pet is happy then you know that he or she will come back to you happy and not stressed. This is our ethos which we know is tried and tested in our business.
As a result, a high percentage of our business is from repeat customers and referrals.
Grooming Salon
We believe that every pet deserves the best, which is why we have created a team of groomers that understand the care required for all types of cats and dogs.

Every member of staff is a dog/cat owner and most importantly an animal lover. We only use and recommend high quality products.

We have separate state of the art grooming rooms at our salon for cats and dogs. Our salon and grooming rooms are cleaned to the highest standard.
We disinfect all equipment after every appointment ensuring everything is clean and hygienic for your pet's grooming session.
Products We Use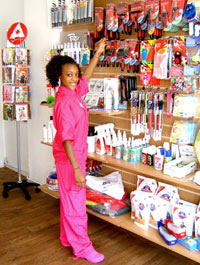 At Pet Universe we believe in happy tails, healthy hearts and preened paws. We have carefully selected our products to ensure that your pet gets the best quality products.
We are currently working alongside UK designers to source funky new designs for cat nip toys, one of a kind collars and personalised items and much more.
We have everything that you and your pet need in our boutique and grooming parlour so not only can you purchase the latest high fashion collar, trendy pet carrier or latest dog coat your beloved pet can come in for a total pampering session.
Our Customers
Providing both pet and owner with exceptional customer service is very important to us. Whether you are shopping in our boutique or bringing your pet in for a grooming session we ensure to provide you and your pet a unique and friendly experience.
We welcome any feedback you might have as a customer about our products or service, so please don't hesitate to send us an email at info@pet-universe.co.uk.