Professional Cat Grooming Course – 15 days
15 days of Intensive Tuition covering basic, intermediate and advance levels; mastering of different techniques in cat grooming, bathing, blow drying, styling, clipping, scissoring, handling and restraining and to be confident in all aspects of cat grooming. This course is designed for applicants wanting to start up and run a successful cat grooming business, or expand your own existing one.
Benefits
Learn the cat grooming business from professional and experienced cat groomers
Know the business and master your skills to enable you to be successful
Learn how to earn £50 – £150 per hour and more
Learn how to work the hours you want and be your own boss
Get one-to-one training with a professional cat groomer
You will be given your own cats to work with
We can guarantee at least 2-3 cats to practise per student per day
Learn all the secrets of grooming cats
Learn all the different cat grooming styles
Learn the secrets of running a successful cat grooming business
On this 15 day course you will
Get training with a professional cat groomers
Groom at least 40 – 60 and more cats per student on the course
Work in a modern state of the art cat grooming salon
Be doing practical and theory work
Find out what tools and products will be the best for the cat
Build confidence in handling all cats
Learn how to work with older and more aggressive cats
Give a cat a full clip and learn a variety of different "Lion" hair cut styles
Groom, bath, dry and style a cat to perfection
Show a competent level of skills and knowledge
Be able to work and finish tasks without assistance
Receive a portfolio, work book and our Certificate of Completion
Syllabus

What makes a successful cat grooming business
Legislation needed for a cat grooming business
Learn your working environment
Health and safety in the workplace
Welcome, receive and care for visitors
Cat health and behaviour assessment
Cat grooming equipment, tools, materials and products
Purchasing products from reputable suppliers
Nail clipping, applying cats' nail caps

Learn to groom different breeds of cats and the different coat types
Eyes and ears cleaning techniques, products, materials and tools
Master grooming, bathing, drying and styling techniques
Clipper and scissor work
The handling of cats and restraint techniques
Learning the different behaviours, temperaments
Hygiene and sanitation
Location
Our Level 3 course runs from Tuesday to Saturday 10 a.m. to 3 p.m. with coffee breaks.
Based in 51 Atherton Road, Clayhall, East London, IG5 0PQ.
Course Dates:
For all course's dates and prices, please refer to our dedicated Cat Grooming School website.
If you have any questions, please call our school on 020 8550 0430 to have your queries answered.
Testimonials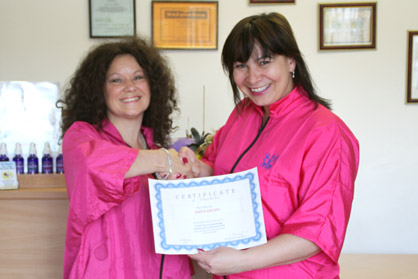 CATNIPS
Exclusive West London cat sitting and professional mobile cat grooming service.
You will find it hard to find another cat groomer with such compassion and understanding for cats.
Currently studying feline psychology behaviour.
WEB: http://www.catnips.co.uk
July 2012
I signed up on a four week cat grooming course with Pet Universe after originally going on a week-end course elsewhere and quickly realising that I had hardly scratched the surface on the information and hands on experience needed to become a professional cat groomer.
Svetlana has been the best teacher I could ever have asked for. She leaves no stone unturned in giving her students a wealth of information not only on the grooming side but also on the cats health, cat behavioural advice and aspects on running a successful business. Svetlana's friendly and direct approach put me at ease from day one and
I was welcomed as part of the team straight away.
This course also gives you the unique chance to see how a professional grooming parlour is run which I personally found to be invaluable and which I am certain will help me in how I approach my own business and the clients and situations I will have to deal with daily.
The course covers all aspects of grooming, including clipping, bathing, handling techniques as well as knowing how to read a cat's posture and vocal 'chatterings' so that you can work in harmony as much as possible through-out the grooming process. You get to practise daily on 2-3 cats all of whom have different personalties, different coats, different requirements.
No day is the same and the experience I gained was worth every penny.
I would say to anyone considering a one to one course with Pet Universe and thinking it may be too expensive – Invest in your business and learn from Svetlana, a master cat groomer, in an environment that lends itself to what you will be doing in the future. I Couldn't have asked for a better teacher, a genuine cat lover, and one that really cares about her students and gives her all to make sure the students learn everything they need to go off and be as successful as her.